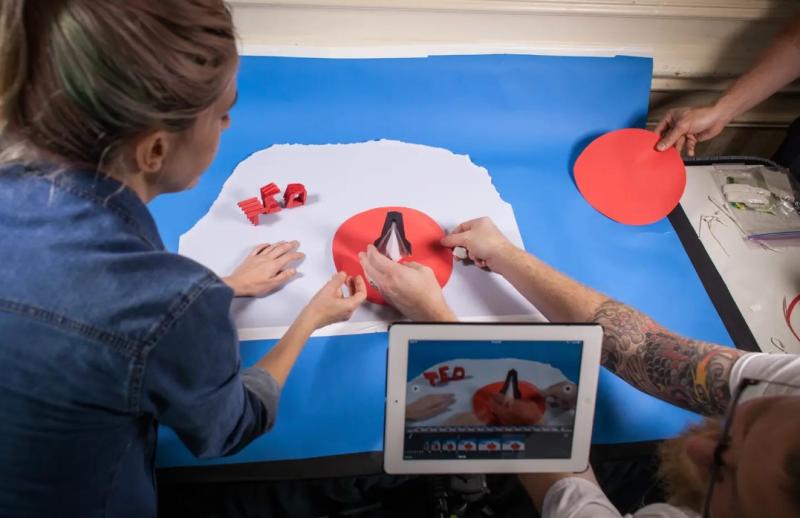 Introduction
On Monday, November 7th, Dr. Ida Yoshinaga's LMC 3253 Animation class welcomed Animation Director and Educator Lisa LaBracio. Lisa shared her career journey with students, showed samples of her work, and answered questions about the ins and outs of animation.
Lisa's visit was organized by LMC Creative Director and CoLab Director, Jillann Hertel.
Lisa's Visit
A graduate of the School of Visual Arts in New York City, Lisa outlined her path from college student to Animation Director at TED-Ed to freelance animation artist. Her fifteen years of experience in the animation industry has allowed her to work alongside award-winning independent filmmakers, documentarians, educational institutes, non-profits, and advertising agencies. But her interest in animation was piqued at a young age. "I got into animation because of Disney, but that is not the route I took." Lisa has spent most of her career working in education animation at TED-Ed, where she created short, animated videos for young audiences (and life-long learners). Video topics ranged from history and language to culture and advocacy. Some of her past projects have included "The world's most mysterious book" and "The Opposites Game". According to Lisa, animation isn't a genre, but rather "a technique and tool to tell stories." Especially when creating content for young audiences, it's extremely important to tell stories in visually engaging and thought-provoking ways.
Since leaving TED-Ed, Lisa has run her own virtual animation studio that allows her to be involved in all aspects of production. Her creative process varies from project to project, but she cites experimentation and gut feelings as her biggest sources of inspiration. Having studied traditional animation, in which each frame is hand-drawn, she can foresee every step of the project. And, with every new client comes a different wishlist.
During her virtual visit, Lisa made sure to emphasize the importance of setting boundaries. Many animation projects require working with different mediums and software. For example, using handmade collage materials and animating them in After Effects, then creating stop-motion frames in Illustrator. It's important for animators to stay realistic about their budget and timeframe, Lisa said. "Determine what you need and what is an 'animator wishlist.'" In the same vein, it's important to stay true to what you're able to create. Sometimes, animators feel the need to learn a new skill they've seen someone else do, but that isn't always necessary—"people aren't hiring you for things you don't know how to do."
One project Lisa spoke of was the #MetKids Microscope. Contracted by the Metropolitan Museum of Art in New York City, Lisa created interactive animations to bring some of the most famous works of art on the planet to life. The initiative was intended to show children the relationship between art and science. Since the pandemic, she said, many creative industries have had to utilize animation in order to create content remotely. This potential within animation to work remotely and collaboratively, Lisa said, makes animators very sought after by employers. As for the pitching process as a freelance animator, Lisa said that she appreciated how the Met paid her to pitch an idea, and how they asked for past experience rather than original work. Having microprojects and short GIFs can be really helpful when pitching to clients, Lisa advised. As a freelancer, she tries not to do unpaid original work for clients. Her impressive portfolio and creative pitch got her the job, and she got to work. The project called for animating existing works of art, including The Great Wave and Egypt's Sphinx statue. One of Lisa's favorite things about working in animation, she said, is the opportunity to learn non-animation-related things from clients. This project, for example, allowed her to research ancient artistic methods, such as crushing insects to make dye. It also allowed her to work with other animators around the world. Animating collaboratively is an interesting but rewarding process, she said. While creative differences can happen, it's important to trust your collaborator, be clear about what aspects matter most to you, and "focus on what's important to the animation, not your ego." Watch Lisa's animations and learn more about the intersection between art and science on the MetKids website.
Whereas many animators use a specific style to market themselves to clients, Lisa doesn't work that way. Although it has its benefits, Lisa said she is both easily bored and too interested in the potential of animation to limit herself. She enjoys exploring different styles, both actively and passively. Just by consuming content, Lisa said, whether it be a TV show or movie, she gets inspiration for her animations. She also looks to Pinterest to keep up with animation styles and discover new artists. To learn more about the potential of a specific software or tool, Lisa advised looking at online tutorials. She also recommended the Instagram account @panimation.tv, an online community of animators that shares amazing work across all disciplines. Short of the Week similarly shares animated short films from the festival circuit that can be helpful in finding inspiration. Reaching out directly to artists is another viable option for learning, Lisa said. In her experience, she's found animators to be extremely open and willing to share their skills with others, especially students.

In case you missed it, you can watch Lisa's visit online (please forward to about 14 minutes in). If you have questions, you can find her at @lisalabra on Instagram, email her at lisa@lisalabra.com, or visit her website, lisalabra.com.